About Gierad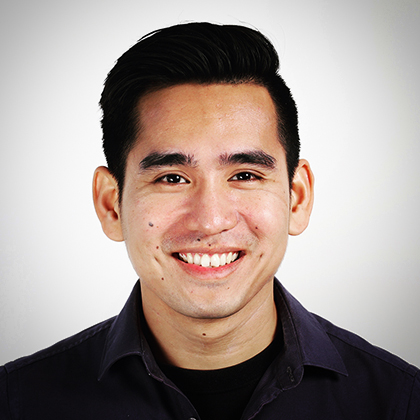 I'm a 3rd year PhD Student at the Human-Computer Interaction Institute at Carnegie Mellon University, where I am advised by Chris Harrison at the Future Interfaces Group.
My research interests include novel sensing technologies for smart environments, the Internet of Things, and mobile or wearable devices. I am most interested in sensing opportunities that do not require special-purpose hardware or invasive instrumentation of users or the environment. Most recently, I have started a new thread of research investigating unconventional uses of 3D printing.
Contact Information


gierad.laput@cs


CV / Resume


@gierad
Outside of research, I enjoy cooking, running, and reading books. Occasionally, I play drums for Disney Research Pittsburgh.
My name is pronounced as "Girard" with no second "r."
| | |
| --- | --- |
| 01/15/2016 | New FIGLab website is up! |
| 12/21/2015 | Accepted role as Associate Chair (AC) for CHI 2016 LBW |
| 12/18/2015 | Star Wars opening day with Disney gang; The Force is strong |
| 12/14/2015 | Two new papers accepted: IUI '16, CHI '16 |
| 11/14/2015 | BBC, NPR, Post-Gazette Interviews. Research getting out. |
| 11/11/2015 | EM-Sense wins Best Talk at UIST 2015 |
| 11/01/2015 | Crafted a series of scupltures: wood and steel |
| 10/29/2015 | At NYC for Engadget LIVE |
| 07/29/2015 | Gearing up for SIGGRAPH. Demos are ready! |
| 07/14/2015 | 2 papers accepted at UIST '15: One on Sensing, another on Fab |
| 06/01/2015 | Working at Google Research for the Summer. |
| 04/17/2015 | Flying to Seoul for CHI 2015 |
| 04/14/2015 | UIST rush is over. Now for CHI 2015. |
Latest Research